TICKETS IN ADVANCE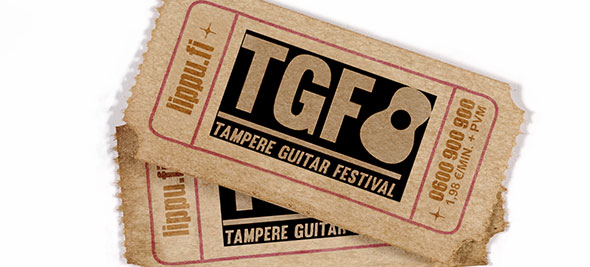 All concerts of June have been cancelled.
For online service in English and other languages, please use the 1st option Lippupiste. Ticket Shop at the bottom of this page is available only in Finnish.
Lippupiste (ENG, SWE, RUS) +358 600 900 900 (7-22, 1.98 €/min + standard network rate)
R-Kioski: Tampere Guitar Festival
Groups
10 % discount will be provided for groups of ten, bookings latest 1 week in advance. Groups over 30 persons and travel agencies, please consult the organiser.
Tickets at the door
Tickets sales in advance will close 1 hour before each event. After that tickets are available only at the door unless the concert is sold out. Ticket sales at the door will open half an hour before the concert, except at Kangasala Hall where Ticket Office serves you through the day. Both cash and debit/credit cards are accepted.
Accessible festival
Lower rate tickets are for TGF members, students, pensioners and persons who are unemployed or doing the military service. Personal assistants and children under 12 years old have free entrance to the concert with no seat reservation.