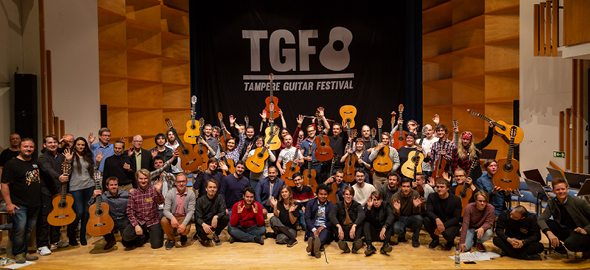 GUITAR COURSES 2019
TGF renews the concept of guitar courses. All activities such as competition, courses, lectures, workshops and daily concerts will now take place at Tampere Music Academy. Also accommodation is located at a walking distance from the venue.
In the year 2019 the focal point is the guitar competition. It has two categories: International series and Youth Series. Especially young participants are encouraged for active participation, which includes both the guitar competition and lessons. Master classes by world-class guitarists highlight the courses. Lessons are available also without taking part to competition.
AGE GROUPS
12 years old and younger
13-15 years old
16-18 years old
Master class students without age limit
TEACHERS
Sergio Assad
Odair Assad
Timo Korhonen
Thomas Offermann
Mak Grgic
Janne Malinen
Andrzej Wilkus
Juuso Nieminen
Pauli Talvitie
EuriStrings Artists
WAYS TO PARTICIPATE
18 years old and younger:
Active participation (incl. competition and lessons)
Competition only (incl. competition)
Lessons only (incl. lessons and following the competition)
Master classes:
3.-7.6. various teachers - active (35e/45mins)
6.6. Sérgio & Odair Assad - active (FULLY BOOKED)
7.-8.6. Timo Korhonen - active (50e/45 min)
Listener, all lessons including Sérgio & Odair Assad and Timo Korhonen (10e)
ACCOMMODATION
Apartments near the venue are available for individuals, shared groups and families.
APPLYING AND PRICES
Applying for the courses and competition take place with the same application form. Detailed information and prices are available at the form.