LECTURES & WORKSHOPS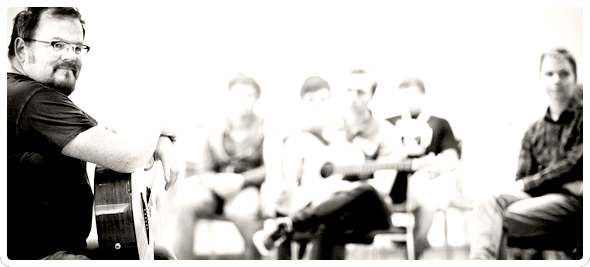 Welcome to hear and participate in to the lectures and workshops of TGF. Participation is free of charge along with listening all the master classes and guitar camp lessons.
Tuesday 4 June
12:00 Presentation: "D'Addario Strings and Accessories", Thomas Offermann, D'Addario
14:00 Lecture: "Composing for Guitar", Paavo Korpijaakko, composer
Wednesday 5 June
12:00 Presentation: "EuroStrings - European Guitar Festivals Collaborative", Mak Grgic, Artistic Director of EuroStrings
Thursday 6 June
17:00 Lecture: "How to prepare yourself for a guitar recording, from the idea to the album", Françoise-Emmanuelle Denis, GHA Records
Friday 7 June
17:00 Book presentation: "Modern Guitar Technique – Integrative Movement Theory for Guitarists", Prof Dr. Thomas Offermann
This publication is an objective contribution to Guitar Technique with a framework derived from a knowledge-base drawing on anatomic and physical factors. Instrumentalists make mistakes only when playing their instrument without conscious and mindful awareness. Any viable instrumental technique can only be based on natural movements executed without any cognitive feedback but with conscious proprioception. Stating that pre-tension is a precondition for any movement leads to the conclusion that the demand for "relaxed instrumental playing" as such is paradoxical.
Master classes 2019
Ilmoittaudu kuuntelijaksi (10e/vk) tai aktiivioppilaaksi Timo Korhoselle | Apply now (listener 10e/week or active with Timo Korhonen)
Mon-Wed
Various courses
Thursday 6 June
Sérgio Assad (FULL)
10:00 Tomasz Radziszewski - Mauro, Giuliani - Rossiniana Nr. 4
10:45 Julia Trintschuk: A piece by Sergio Assad
11:30 Gábor Hart: Dávid Pavlovits - Dance to the edge
12:15 Misael Barraza-Diaz: Sérgio Assad - Un bouquet pour Julia
13:00 George Dimitrov: M. Castelnuovo-Tedesco - Capriccios de Goya Nr. 2 & 20
Odair Assad (FULL)
13:45 Giulia Ballare: José Antonio: Sonata para guitarra
14:30 Emmanuel Sowicz: Johann Kaspar Mertz - Fantaisie Hongroise
15:15 Viktor Djuknic: Sérgio Assad - Aquarelle
16:00 Yuki Saito: Leo Brouwer - Sonata del Caminante
Friday 7 June 12-16
Timo Korhonen Apply

Saturday 8 June 9-13
Timo Korhonen Apply
Venue
Tampereen Musiikkiakatemia | Tampere Music Academy
F.E. Sillanpäänkatu 9
Tampere
Vapaa pääsy | Free entry