TI|TUE 4.6.2019 klo 19 • CLASSICAL GUITAR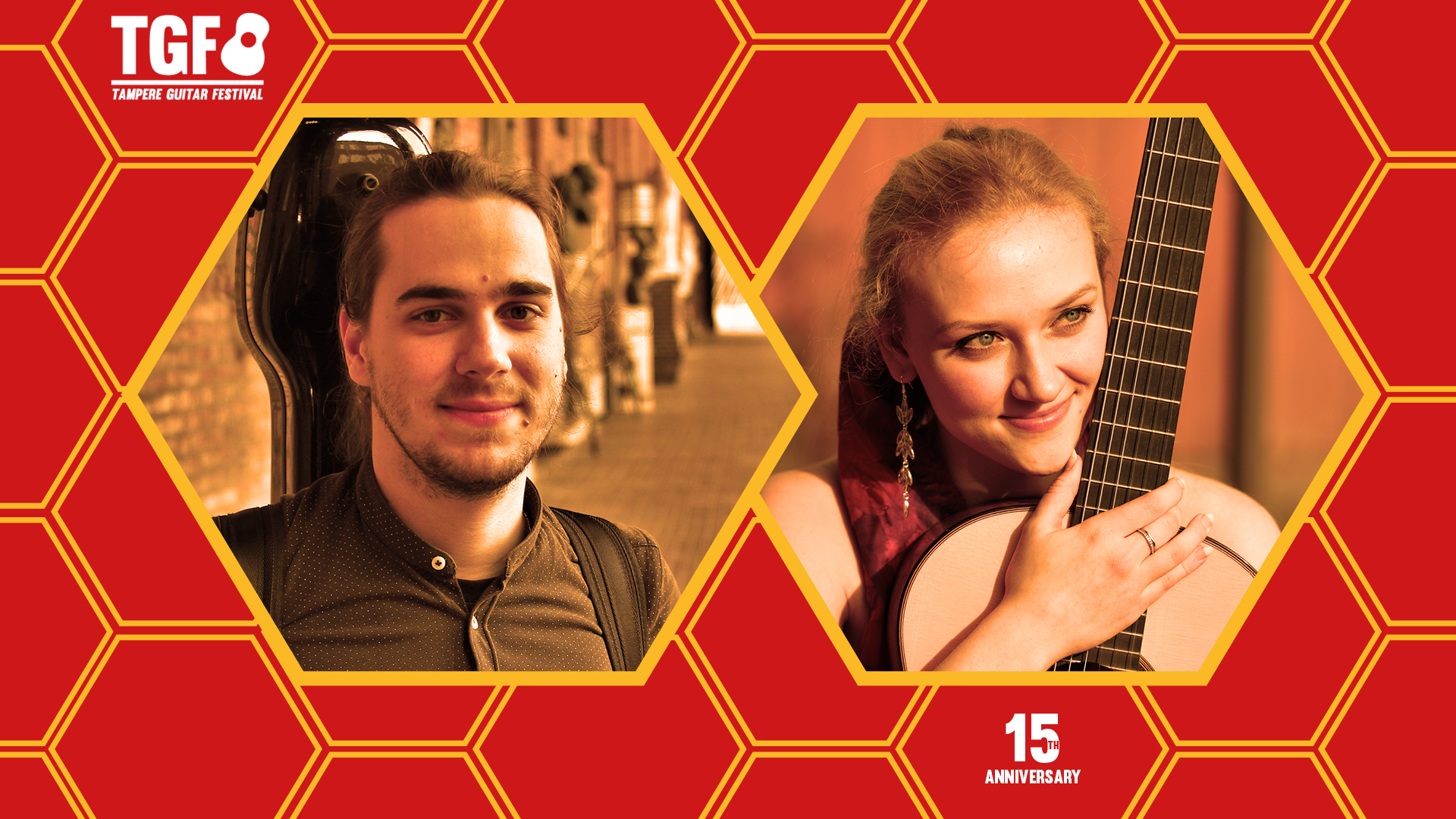 Gábor Hart (HUN), Julia Trintschuk (GER)
Classical • 19:00~20:30 (break 20 min) • Numeroimattomat paikat | Unnumbered seats
Sor, Scarlatti, Castelnuovo-Tedesco, Giuliani, Falla, Villa-Lobos, Ginastera, Pavlovits, Brouwer, Bach, Corea

Pirkkalan Vanha Kirkko
Anian rantatie 226, Pirkkala
Gábor Hart (HUN)
Gabor Hart, born on September 28th, 1995 in Hungary, has been immersed in professional music in all his life since he was a small boy. He started playing guitar at the age of 11 because he was inspired by rock music and he is proud to say that his music is still influenced by rock.
In 2010, he was admitted to Szeged Music Secondary School where he was a student of Andrea Bozóki. During these years he passionately fell in love with classical music. In 2014, he was the student of the University of Szeged Music faculty, where he was mentored by two amazing and talented teachers Dávid Pavlovits and András Csáki.
He has been playing electric, classical guitar or even a banjo regularly, in the Szeged National Theatre since 2016. He also teaches guitar and music to almost all ages and many musical styles. He had a chance to play in the surrounding countries and at several Hungarian venues and guitar festivals. Gábor is also in rock/funk/jazz bands and with many chamber orchestras, he even had the pleasure to play jazz themes as well. Over the years he has been lucky enough to learn from many famous musicians and guitarists from all over World.
He won the first place at these competitions: Temesvár, Alma Cornea Ionescu (2014), Topola, II. International Guitar Competition (2014), Székelyudvarhely VII. Terra Siculorum International Guitar Competition (2014), Szeged, III. Országos Egyetemi Gitárverseny (2016), Nyiregyháza, I. National youth guitar competition (2017), and Szeged International Guitar Competition (2018).
Julia Trintschuk (GER)
Julia Trintschuk began learning the guitar at the age of 4 with her father Anatoli Trintschuk. At the early age of 6, she became a student of Prof. Mario Sicca in Stuttgart. Later she studied with Martin Wiedmann, Prof. Johannes Monno, Ivo and Sofia Kaltchev, and Mateus dela Fonte.

During this time she received many prizes and participated in many competitions (e.g. Jugend musiziert, International Llobet Competition Barcelona, Forum Gitarre Wien, Deutscher Musikwettbewerb, International Bach Competition Reisbach). In the last year, she won the Grand Prix and the first prizes at the International Bratislava Guitar Youth Competition, the Hannabach-Competition, the Heinrich Albert Guitar Competition, Montenegro International Guitar Competition, as well as the special prize for the best interpretation of romantic music at the Forum Gitarre Wien.

She received masterclasses with Pepe Romero, Scott Tennant, William Kanengiser, Matthew Greif, John Dearman, Johannes Tonio Kreusch, Dimitri Illarionov, Celino Romero, Lito Romero, Judicael Perroy, Gerald Garcia, Dale Kavanagh, Roland Dyens and other important personalities of the international classical guitar community.

Julia launched her performing career at the age of 16 with the well-known "Concierto de Aranjuez" for guitar and orchestra by Joaquin Rodrigo and has played as a soloist and chamber musician in places all over the world such as Mexico, Russia, Poland, Slovakia, Italy, Spain, Switzerland, Austria, Germany and the Netherlands. In May 2017 her Debut-CD was published. Since 2017 she has been a "Savarez Artist" and uses the strings "Cantiga Creation 510 MJ".
Ohjelma | Program
Gábor Hart (HUN)
Heitor Villa-Lobos: Bachianas Brasileiras no. 5
Alberto Ginastera: Sonata
Dávid Pavlovits: Dance to the edge
Leo Brouwer: Sonata 2 (Sonata del Caminante)
Johann Sebastian Bach: BWV 1008 Sarabande
Chick Corea: Spain
Miquel Llobet: Canco del Lladre, El noi de La mare
Robert Schumann: Traumerei
Julia Trintschuk (GER)
Fernando Sor: Grand Solo, op. 14
Astor Piazzolla: Oblivion
Mauro Giuliani: Rossiniana No. 2, op. 120
Mario Castelnuovo-Tedesco: Capricho de Goya No. 18
Francisco Tarrega: Gran Jota
Info
Konsertissa ei ole äänentoistoa | Concert is without amplification
Lähetetään suorana | Live stream at TGF YouTube
Yhteistyössä | In Association with
Liput | Tickets
Ennakko | In advance 18/16 €
Ovelta | At the door 20 €